Park Lodge Project Hinckley Road Expansion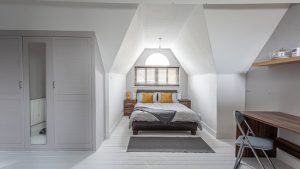 The project has embarked upon a period of expansion to meet the high levels of demand from young people. We are pleased to announce the opening of 2 new properties to expand the projects reach and increase the numbers of young people we can support.
Hinckley Road, Leicester
Referrals now being accepted.
We are pleased to announce that phase 1 of refurbishments at our Hinckley Road property is nearing completion with the first cohort of young people expecting to be accommodated from January 2021.
The property will provide high standards of living accommodation, communal lounges and bathrooms, 6 bedrooms (4 with en-suite facilities), confidential meeting rooms and high-quality Kitchen-Diner facilities.
The next phase of the refurbishment we are hoping will begin during the Spring 2021 and will include a further 8 bedrooms (7 with en-suite facilities).
West End, Leicester
We are happy to have recently secured a newly refurbished 5 bedroomed property with communal lounge and large kitchen-diner area, meetings facilities which provides high standards of accommodation throughout.  This property has successfully accommodated 5 young people since opening 16th November 2020.
Referrals
For social care placements contact:
Julie Cole Social Worker (Julie.cole@parklodgeproject.org)
For all other referrals or to receive further information please contact the duty worker on
Telephone: 0116 270 7319